11 January 2021
DV&D move online with a fresh new website!
As DV&D has become renowned for providing technical services to do with digital, data and communications, we were well aware that our website needed a refresh.
We thought it was time to up our own online presence with overhauling our website. As a company we have put together a series of plans and programs of company changes and as a result renewed our positioning and marketing strategy. This new business plan and marketing strategy will allow us to withstand our reputation and the growth within the business whilst additionally better supporting out customer through our host of services which is our upmost key priority.
In line with the new business plan and website, you may have also spotted we have tweaked our brand to showcase our services better and simplify our offering.
New brand, New Website
So, we are delighted to reveal our new website as part of our plan to better communicate with clients. Our new website needed to reflect the extensive range of services we provide to the commercial and industrial sectors. And as a result, our new site has been developed to dedicate sections to specific services we provide to our customers. We have also improved our support services to you by giving you a place to contact us 24/7 when problems may arise. Additionally, to this to better communicate with our clients, we have implemented a news section so you can keep up to date with DV&D and our marketing adventure on the new brand also.
Overall, we feel the new website is easier to navigate for our visitors, includes DV&Ds news and updates, plus provides an easy-to-use online booking system and support form on our services.
We believe it shows a fresh, contemporary approach to data and communication's.
What do you think of our new brand and site, we'd love to know!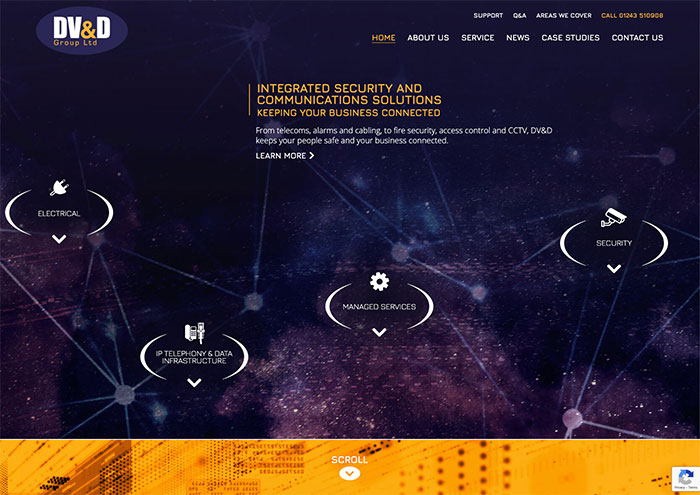 Can we help?
If you have a project, we would be suitable for, please do not hesitate to contact us. We'd love to hear from you!